BIOGRAPHY
---
Vasiliki Stavrikou, art name Vasiliki-S, was born in Greece at Xylocastro (Corinth). She completed her lyceum in Greece and the fine arts Accademy in Rome, specializing in Stage design, painting decoration and interior decoration. For twelve years she works with Prof. Camillo Parravicni in Rome Director scenographer Theatre of Rome, collaborating in the design and production of sets for the Opera Theatre and television in Italy and abroad.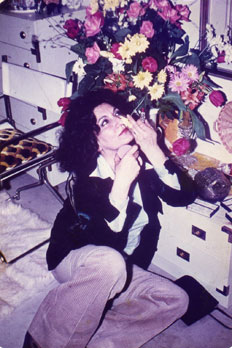 In 1971 she participated in the staging of the opera "Boris Godunov" (M. Mussorgsky) by Giancarlo Menotti director, at Spoleto's Festival of Two Worlds (Teatro Nuovo), in Italy.
Moreover, she collaborated with C. Parravicini in the realization and production of the opera "Un Ballo in Maschera" (G. Verdi) in La Scala Theater in Milan and of the opera "La Gioconda" (A. Ponchielli) in the Deutsche Opera in Berlin Germany.
She has also worked on the sets of many films with such prominent directors as Franco Zeffirelli, John Huston, Christian Marcan. Among them: "The Taming of the Shrew", "Doctor Faustus", "Montecarlo Rally", "the Kremlin Letter", " Reflections in a Golden Eye" and "Candy" for which she was in charge of set production.
She collaborated in the Italian production of Roberto Rossellini's "The Lives of the Apostles".
She has had exhibitions in all major Italian cities and has participated in International competitions as well.
Vasiliki-S: The prompting of memory
The human figure in it's most lyrical and at the same time, it's most dramatic aspect is the nucleus from which Vasiliki's painterly discourses start out.
Her images, her pictures are born from the stimuli of memorized sensations reproposed with a vibrant painting technique that accentuates the references and the symbols.
Vasiliki knows all the secrets of her craft-the transparency of color - the dramatization of the gesture, the balance of the composition; she utilizes these things with great ability and obtains results that are not only proofs of virtuosity but the true centers of inspiration and emotion.
We mean to say that this painter does not resort to technical tricks but prefers to compose her works in a quasi gestural manner, nervous and filled with intimations.
The very chromatic range used has become more luminous in recent times; a kind of interior light clearly emanates from the personages she invents, or better, unearths from out of ancestral memory. Soul states, for die rest, are the expression of this painting which makes use of romantic titles such as "The Doubt", "Tenderness", "The heart of the forest", "The nest", or of historical allusions such as, "Salomè", "Nereid", "St. Peter".
One could perhaps say that her cultural origins, her artistic formation, her work as a set designer have had a determining influence in these works that appear as images coming from a distant world, sweet visions, transcriptions of sentiments.
It is from the point of view that one should consider the work of Vasiliki, a painter who has by now arrived at a validity of thought that accompanies the artistic objectives she pursues.

Toni Bonavita
Art critic of "Il Tempo", Roma
---
[presentation] [biography] [bibliography] [exhibitions] [works]